More than 80 students, faculty and staff gathered on WMU-Cooley Law School's Lansing campus for a luncheon about federalism and limited government on Sept. 19. The event was hosted in honor of Constitution Day and featured Hon. Michael Warren from the Oakland County Circuit Court.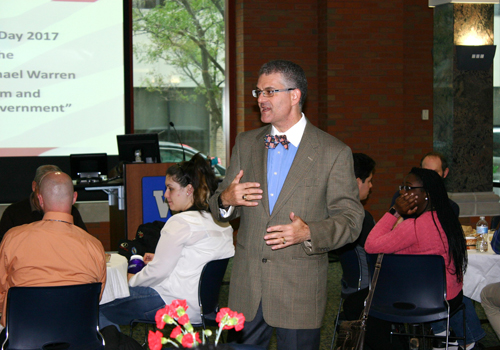 During his remarks, Warren provided his interpretation of the Constitution. He reminded students of the founding principles on which the Constitution was based and explained how those principles apply to current situations. He emphasized the applicability across political ideologies as he focused on the principles of rule of law and equality.
Warren was appointed to the Oakland County Circuit Court in December 2002 by then Governor John Engler, and was elected into office in 2004, 2006 and 2012. He was previously a Michigan Supreme Court judicial clerk; practicing attorney with experience in appellate work and litigation corporations, securities, mergers and education; the executive director and counsel for the New Common School Foundation and member of the state board of education 1999-2002. He is a board member of several nonprofit education-related organizations, and is the co-creator of Patriot Week.
Sep 22 2017