Münster, Germany, Exchange Program
WMU-Cooley students have the opportunity to study for a semester at the University of Münster, Germany's largest law school. The student exchange program allows as many as four students from WMU-Cooley to study at the University of Münster during any one year period. The semester provides participating students the opportunity to immerse themselves in international law. All the courses are taught in English.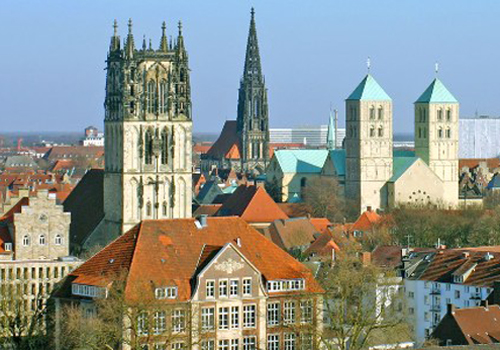 The University of Münster is in Münster, Germany, in the state of North Rhine-Westphalia and bordering the Netherlands and Belgium. NRW is the country's most populous state. It is the home to cities such as Cologne, Dusseldorf, and Bonn (Germany's capital before unification with East Germany) as well as beautiful rural areas.
WMU-Cooley J.D. students who have completed one year of study are eligible. Students interested in obtaining more information about the exchange program and the application process may contact the International Programs Office by telephone at (517) 371-5140 or send an e-mail to [email protected] .
Educational Objectives
The educational objectives for the WMU-Cooley Study Abroad program are:
Encounter other cultures and legal theory and systems
Attend legal courses that are international and comparative in focus
Participate in legal events that familiarize them with the legal system of the host country
Gain an international and comparative perspective of the law
Experience daily living in a different culture
---
Join our e-mail updates list
If you would like to receive information about our study abroad programs, please sign-up for our program updates e-mail list . Those on our e-mail list are the first to know about the program. They also receive very special program opportunities for current and future programs.